This project was particularly challenging because:
My client needed a home office, but her husband was already using their spare bedroom as his office.
They didn't know how long they would be living in this house.
They didn't want to spend money buying new office furniture, given #2 above.
But she didn't care to use the folding tables in the garage as a temporary solution.
With that, I was asked to see if I could help them create a space – either in the husband's home office which doubled up as a guest bedroom, or in their master bedroom which also offered some possibilities.
During the in-home consultation, we came up with multiple options and discussed each one at length. There is always a solution, but not without some degree of compromise given the list of conditions. Even more challenging is if two people have different thresholds of what they can accept, as was the case here.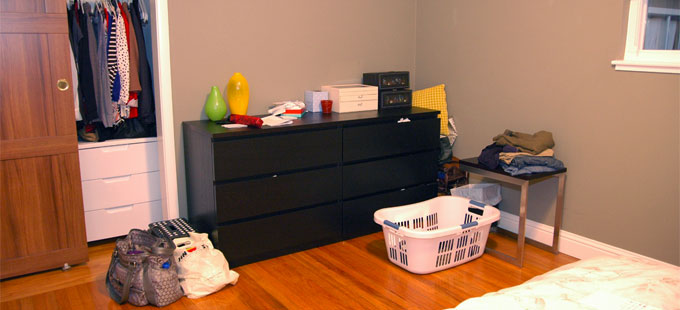 As the discussions went on, it was clear that the proposals so far weren't going to work for them both. So I took another spin around the house to see if there was any other space we could use – or perhaps furniture that could be repurposed – and I came back with this:
What if we switched the dresser in the bedroom with the white cabinet in the dining area, used the small table in the kitchen as her desk, and used the folding tables in its place?
Bingo! They both liked the idea immediately.
Read the client's testimonial.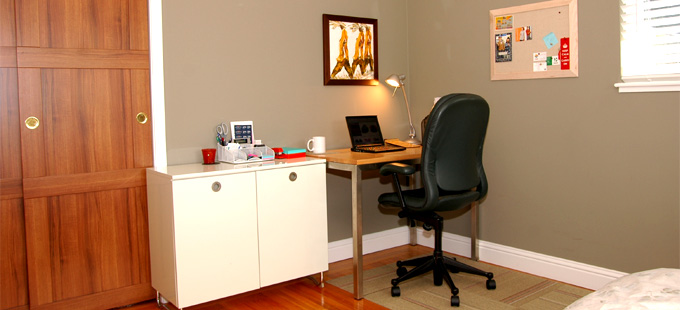 This now gives her a nice space to call her own. They don't need to buy new furniture or get rid of any furniture they already had. And it has enhanced the look and feel of the dining area since the dresser is wider and offers more counter space and storage.
The pictures seem simple enough, but the solution involved much discourse and reusing furniture from four different rooms – the bedroom, dining area, kitchen, and garage.
To learn more about my in-home consultations, click here.
View all Gallery Case Studies